By: Anca Budau
Why is Creativity important to your mental health?  
Creativity - natural antidepressant: There is no clear definition of creativity, but it can be described as the ability to come up with NEW ideas, NEW connections between ideas, and NEW solutions to various problems.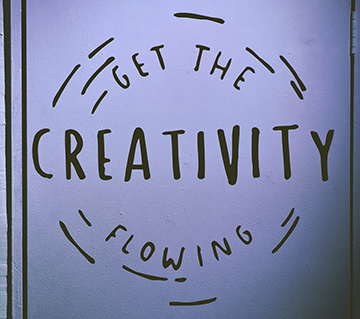 It should be mentioned from the beginning that you don't have to be an artist to be creative. It's enough to have an open attitude and take the liberty to do something; creativity can be found in knitting woolen skirts or inventing a culinary recipe. One more important thing: all people have some level of creativity. Leaving aside the artistic side, we can find creativity even in the simple act of living. Everyone reacts differently to the environment in which they live, everyone has their own way of making decisions and anyone's unconsciousness creates unique dreams. 
"Our very way of interacting (and reacting) with what surrounds us is what makes us creative." 
J. Giordanno  
There's a famous study led by Paul Silvia at the University of North Carolina- Greensboro, in which Paul and his team monitored the well-being of 79 students, enrolled at the above-mentioned university, for a whole week, and the results are very interesting.  
It seems that even the most frivolous, amateurish, and strange creative activities can contribute considerably to a state of well-being and a healthy mind. On the one hand, students reported a greater state of happiness and vitality when they were involved in creative activities, than when they were not doing anything creative. On the other hand, negative emotions are rejecting creativity, which refutes the myth of the suffering artist who takes refuge in creation.  
Another research, this time focused on what we can create with our hands, strengthens and at the same time contradicts the conclusions of the previous study by highlighting the beneficial effects of creative expression in everyday life. When we create, repair, or make something, we feel active and useful. Also, entering a deep state of concentration, leaving us absorbed in what we are working on, helps us to disconnect and relax. Transforming inner states into outer products can bring us comfort, even if the source of those states is an emotional wound. This last conclusion contradicts the results of previous research, which indicates a weakening of the motivation to create when we go through difficult episodes. 
So, let's not let the demands and fear get in our way, because our play and small creative activities are actually very serious issues, acting as natural antidepressants and contributing to our overall mental balance. 
There are 6 main benefits for the well-being of your mental state while you are involved in creative activity: 
You are completely involved, emotionally, mentally, spiritually - your concentration is so great that you forget about yourself, forget that you are hungry, etc.

 
 

A feeling of indescribable pleasure and happiness

- a person in a state of flow is in contact with deep levels of the subconscious and superconscious. In those moments, the mind is so focused, that from within appears the normal human state of happiness. The calmer and more focused the mind is, the happier and joyful you feel. 

A state of mental clarity

- in the state of flow things are simple and clear. You have no doubts, you know exactly what you have to say or create. 

In those moments everything is very simple and easy to do

- there is no fear that "it's not possible", there is no "impossible" in the state of flow. Everything is possible and everything can be achieved.

Any worries of the mind that were pressing on you disappear

- being so focused on your creative action, you forget about yourself. Forgetting you, your problems and worries disappear. In this state, you can come up with brilliant ideas on how to solve any situation you face.

Inner motivation

- in the flow state it doesn't matter if someone comes to pay you for what you do or you don't receive any money for your creation. You just can't help but create. This state of inner motivation is so strong that it leads you to achieve the results you want, in any field.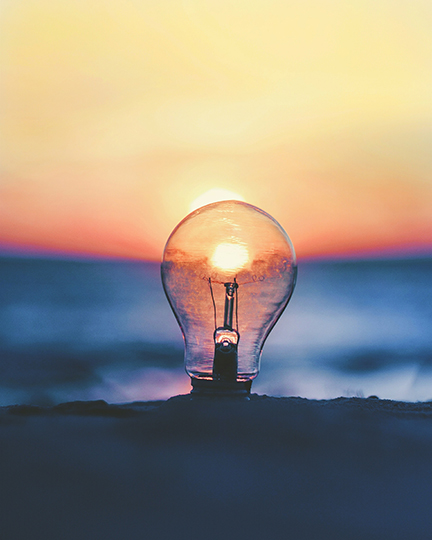 Here are some tips to amplify your inner creativity:  
Feed your mind with new information all the time

. This keeps your mind alert and awake. If you bring something new to your mind every day, it remains flexible.
Behave like a tourist in your own city.

You have been walking on the same streets every day for years and you have only noticed the cement, the traffic lights, and the pedestrian crossings. Imagine that you are a tourist and that you see that place for the first time. This brings in you a state of amazement and curiosity. This state is the basis from which creativity starts.

Think with someone else's head.

When you have a problem to solve, ask yourself how you would see that problem if you were a child, ask yourself how you would see the problem if you were an artist or a researcher.

Avoid classic brainstorming.

It is important to be alone with yourself and brainstorm. If you are with more than one person, you will either feel inhibited or others will feel that way and the results will be minimal.

Ask questions like a child.

 How many questions did you ask today? How many different questions, not repeated? How many questions have you asked yourself and others? You need to ask at least 20 questions daily. 

Listen to ambient music.

For the mind to be creative, it needs to be calm. No hectic musical rhythm will stimulate creativity. For creativity, classical music is recommended.

Contemplate nature and beauty.

Humans have developed as a species in the middle of nature and the color green is the most familiar to us. This color stimulates relaxation and mental regeneration.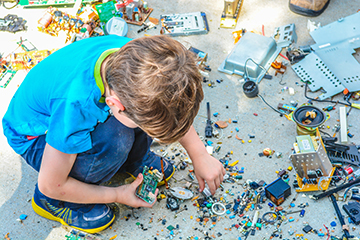 Creativity is NOT just for geniuses and artists. Mental creativity is natural in all children, but we lose it when we grow up and become adults. There is a close connection between your success and happiness in life and your creativity.