By: Anca Budau
Aries as an Artist
Creative thought abilities are one of the most essential qualities that a person can possess.
If you were born a Picasso or have never picked up a paintbrush in your life, how well you can channel your imagination can dictate how well you will react to challenges, build ideas, and express yourself in your life. Creativity, on the other hand, does not come easily to all zodiac signs. You can't push anything like that, even though you read your horoscope diligently looking for an indication.
When an Aries wishes to choose a career as an artist, there are just as many disadvantages as advantages. The ambition of an Aries will help them excel, but most Aries lack the patience needed to be an artist.
Being an artist needs effort, attention to detail, and persistence, all of which are virtues that an Aries lacks. When an Aries has an idea about something, they leap back in without pausing to think about it. Although an Aries artist can complete tasks faster than an artist of a different sign, if the task at hand takes too long/requires too many complex descriptions, the Aries may lose interest and become discouraged.
If an Aries wants to be a good artist, they must practice patience or they will never finish a job. However, if a project is done, it is certain to be awesome. For an Aries, doing a shoddy job on something they care about is impossible.
Another thing to keep an eye out for is an Aries' temper. An Aries is more likely to get irritable during these long tasks, and therefore to have temper tantrums and pick fights with others.
Finally, there is no question that an Aries artist's work would be amazing. However, until the Aries learns to be patient and calm down a little, there will never be a completed piece of art.
But there's a silver lining in all of this: choosing art styles that are fast and brings amazing results. This way, an aries will not get bored and come up with great art pieces.
Painting techniques as fluid art, paint pouring, or splashes of colors are among the simplest and most efficient ones for an aries with no time to waste. This way, the impatient aries can work more abstractly on multiple quick pieces, since this can be considered big impact art with quick actions and fast results.
One of the most interesting and fun painting techniques mentioned before, that fits like a glove for an aries temper is the Paint Pouring.
What is pouring?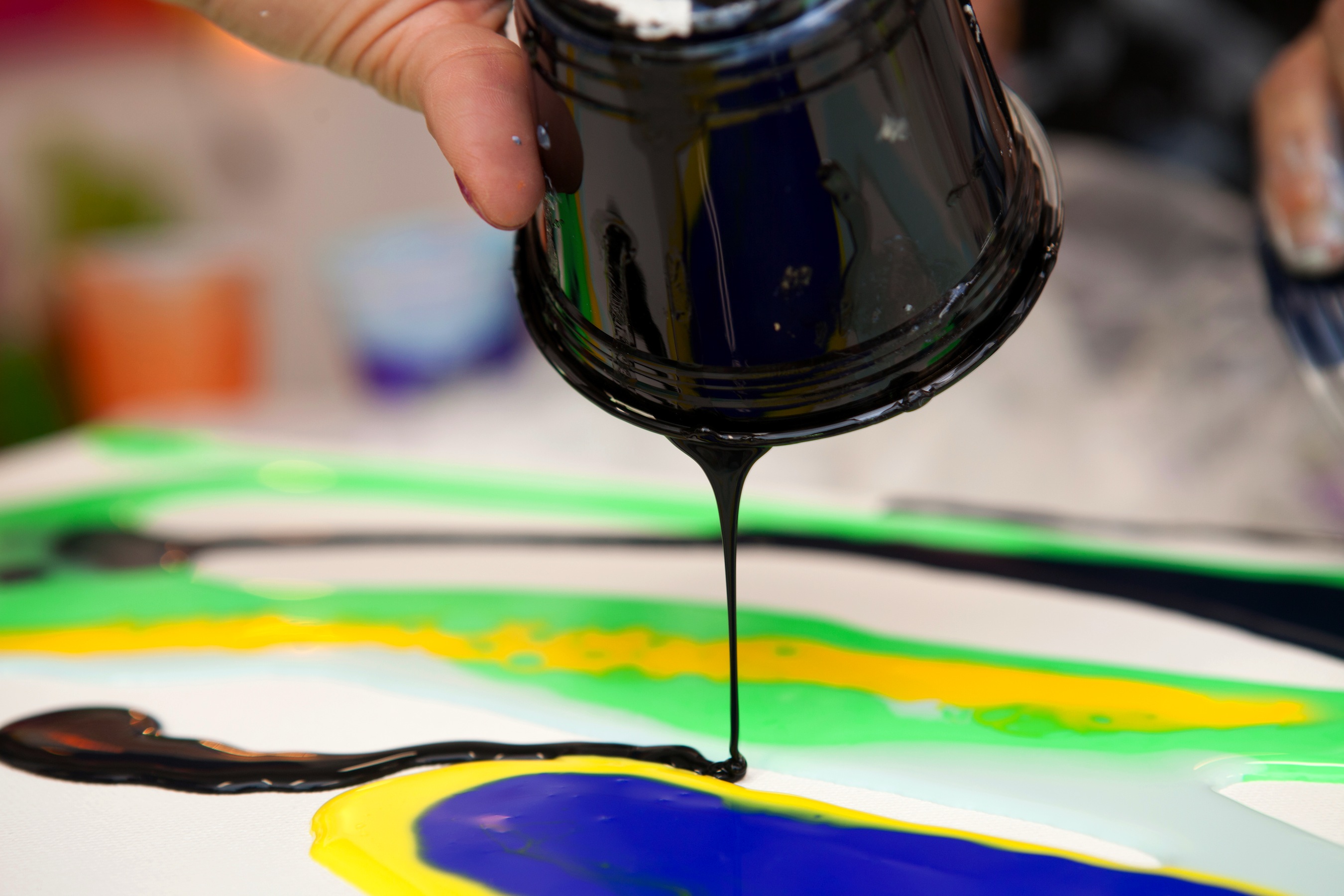 Pouring is a very popular fluid painting technique (fluid art), which involves mixing acrylic paint with a suitable medium for painting and then pouring the mixture obtained on a work surface. The surface is then tilted in each direction to let the paint flow, and the colors interact in unpredictable but always interesting ways! Sometimes you can pour the colors from individual glasses, and other times you can combine the colors in the same container and you can pour them together. This creates a lot of special and original effects, which can be easily achieved by anyone, whether they are beginners or advanced!
Why is the pouring technique suited for an Aries personality?
Pouring is a relatively new art form that has its origins in America, but it is gaining more and more followers in the rest of the world. Why?
It is suitable for beginners. For the pouring technique with acrylic paint, you do not need drawing skills or experience in painting, but only a little free time and imagination. From small to large, anyone can enjoy this creative hobby!
You don't need a lot of materials. You don't need brushes, palettes, easels: you only need a few acrylic colors.
It is also suitable for people who have little free time. You don't have to invest half a day or more in your work. The good part about pouring is that it can be ready in less than half an hour!
It's fun. There is no result you have to reach, you just have to enjoy the journey! Mixing colors to your liking and creating a work of art without too much effort turns pouring into a fun and enjoyable activity.
Another pleasing activity for Aries is to play with his element: fire, in a metaphorical way, of course! There are a lot of artists that are creating art by playing with fire. From fire sculptures by Rob Prideaux to drawing with fire or graffiti on fire, there are a lot of amazing ways you can express your creativity through your spirit and soul element.
So, if you are an Aries inclined to art, you just found amazing ideas on how to show your artistic spirit to the world!